Availability:

In stock

(1)
Delivery time:
In stock, ships in 0-5 business days
Sets of 3 pots of Coat d'arms paint, designed to be used together as base/shadow, midtone and highlight.  These combinations were put together by reknowned UK painter Steve Dean.  There are 25 in all!
Buying the triad as a set saves you 5% compared to buying them separately.
Scroll down to see contents of each.
01 - Military Green Triad

02 - Leather Brown Triad

03 - White Triad

04 - Yellow Triad

05 - Green-Grey Triad

06 - Black Triad

07 - Blue-Grey Triad

08 - Dark Brown Triad

09 - Light Blue Triad

10 - Khaki Triad

11 - Dark Green Triad

12 - Olive Green Triad

13 - Bone Triad

14 - Light Brown Triad

15 - Mid-Blue Triad

16 - Light Grey Triad

17 - Stone Triad

18 - Grass Green Triad

19 - Dark Red Triad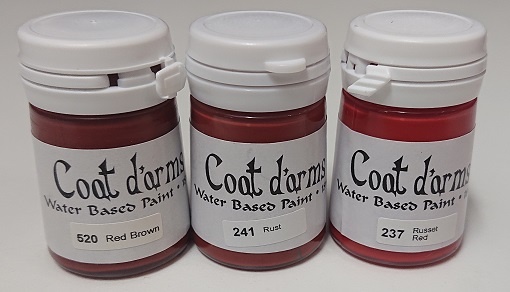 20 - Dark Grey Triad

21 - Goblin Green Triad

22 - Silver Triad

23 - Faded Khaki Triad

24 - Wood Brown Triad

25 - Bronze Triad

0
stars based on
0
reviews